Flooring is one of the most important parts of any home. Not only does it have a functional purpose, but it can also determine the style and overall "feel" of a room. There are a lot of great flooring types to choose from, so you can be sure to find what you want while staying within your budget. But, as you design your new custom home, you want to make sure you choose a flooring option that will wear well over the years (especially if you have young children or pets). You also want to choose materials and colors that will work well with the rest of the home and will keep their beauty for many years. Easy maintenance and durability are also things to consider, especially if you have a busy or active lifestyle.
If you're not sure where to start, here are some factors that you should consider:
Budget
Cost of installation
Style and aesthetics
Return on investment
Some rooms might be better suited for carpet, while hardwood might work well in others. But, you may need a flooring option that's more resistant to wear and tear, especially if you have pets or children. Higher cost and quality will often mean that it will last longer, so that's something you should remember.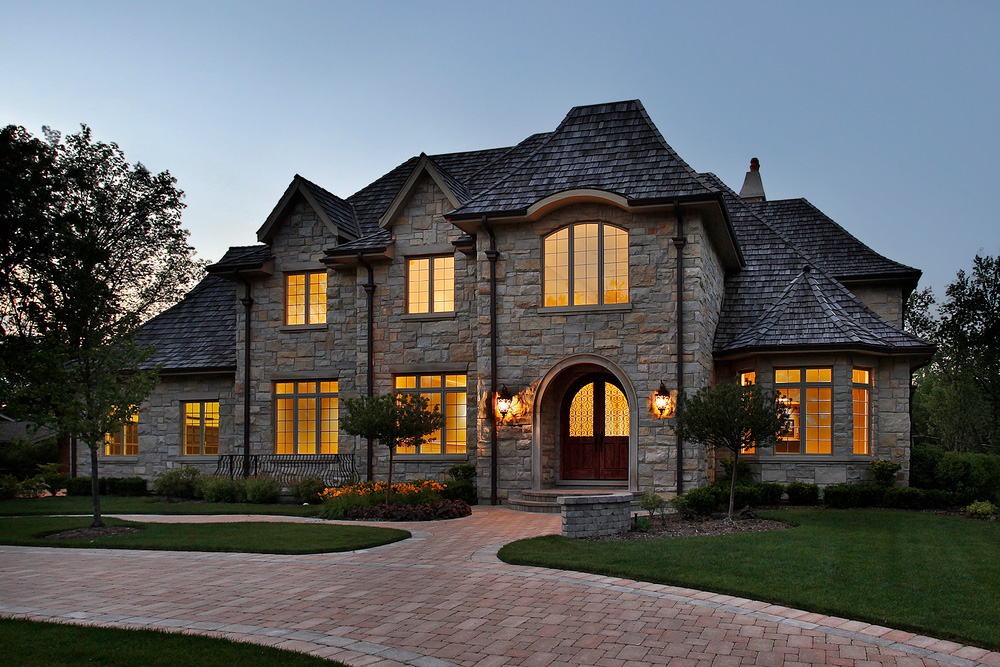 Here are some of the best flooring options for your new custom home.
#1: Hardwood
Hardwood flooring has a classic look that can work with any type of home. It's durable enough to be installed in every room of the house, including kitchens and other high-traffic areas. It's also available in a variety of finishes, which can give you plenty of options to choose from. Some of the best types of hardwood floors include, but may not be limited to:
Birch — A naturally light wood with a tight grain.
Hickory — Natural color variation with a striking grain.
Kupay or Brazillian Cherry — An exotic species of wood with a reddish-brown color.
Maple — A type of wood with a medium shade and a broad color variation (with occasional knots).
Oak — One of the hardest woods on the market with a heavy grain.
Each type of wood has its own unique color, style, and price. Many of them are also available in a variety of board sizes (including wide planks). But today, many manufacturers offer both solid hardwood and engineered hardwood planks. Engineered hardwood is more durable, because it's more resistant to fluctuations in temperature and humidity.
#2: Laminate
High-quality laminate flooring looks and feels like real wood, but costs a lot less than standard hardwood flooring types. It's also more resistant to dents, scratches, and stains. Laminate flooring can be easily cleaned with a vacuum or broom, so pet hair and dust aren't a problem. Laminate comes with more color and texture choices than hardwood, but new options can mimic the look of stone, brick, or even tile. It can even be textured to make it feel like wood grain or the surface of stone, which makes it look more realistic. Laminate flooring will give you a lot of flexibility, so you can be sure to find a look that works best for you.
#3: Carpet
While hardwood and laminate flooring types have gotten more popular in the last few decades, carpet is still an important material in many homes. Not only does it come in a broad range of colors and materials, but it can also give your home a feeling of warmth and coziness. It can even minimize noise, which makes it a great choice for rooms on the second floor, hallways, and kids' play areas. Many people like having carpet in the bedroom, especially on a cold winter morning.
You do, of course, want your carpet to wear well, which is why quality is so important. The material you choose also matters. If stain resistance is important, polyester carpet will be a better choice than nylon. You can also get treated carpet, so spills can be easier to clean up. If you're thinking about adding carpet to certain areas of your custom home, make sure you choose a manufacturer that uses high-quality materials that wear well.
If you want to know the best flooring options for your custom home, you should speak with a professional. Devonshire Custom Homes is one of the best home builders in Corpus Christi. If you want to get the most out of your custom home, be sure to get in touch with us. We would happy to speak with you about your specific needs!