Whether it's a third bedroom or an addition over your garage, a lot of homes have bonus rooms. There are just as many homeowners who don't know what to do with them. That's why many of these rooms become "catch alls" for mismatched furniture, random decor, and storage. But, you can take back these spaces by converting them into something useful. Even if you're planning out a custom home design, you can come up with extra room ideas that can be used for more than just storage.
Here are some ideas that can help you come up with a design for an extra room.
#1: Game Room
Whether you're entertaining guests, keeping kids occupied, or creating a space for yourself, having a game room can be useful. When gaming consoles, foosball tables, air hockey rigs, board games are scattered throughout the house, things can get cluttered real quick. Not mention, all the extra noise.
Not only do you have to remember where everything is, but you can also end up with odd-looking pathways and flows for how people move around the house. People may have to move through the kitchen to get to the living room, and the sound of a gaming console in the background can get old quick. Rec tables, games, and other game-related items can also take up a lot of space.
You can also add a shed in your backyard that you can turn into a game room. In fact, it's one of the most popular ways to use a shed. With some soundproofing, you can control the noise of happy gamers (which will create a more peaceful environment inside the main part of the house).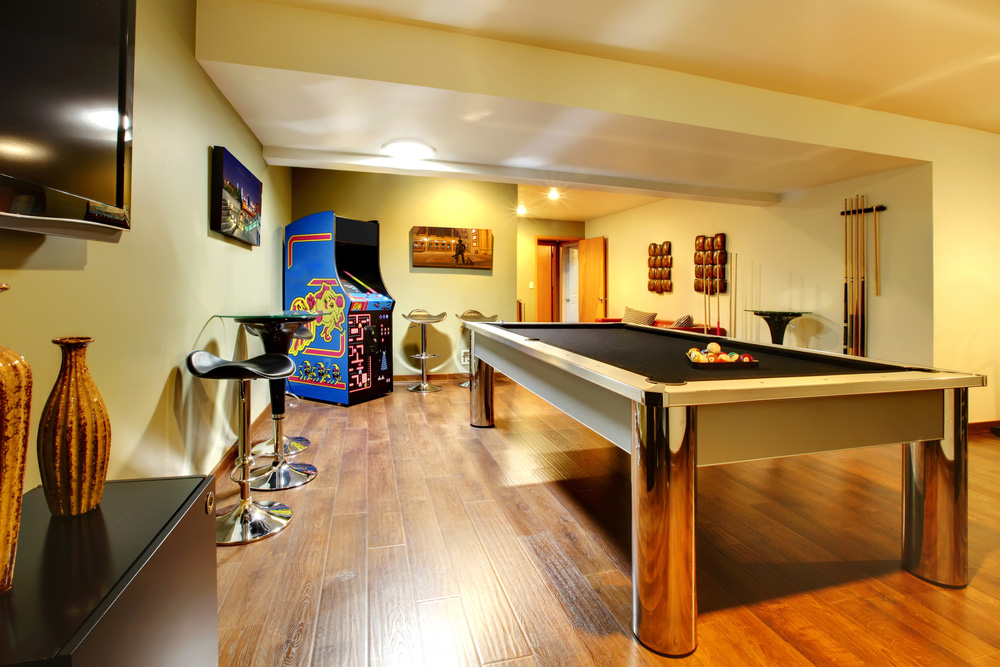 #2: Home Office
When you work from home, not having a dedicated workspace can be stressful, which can affect your productivity. Home offices can give you the space you need for all work-related tasks. You can also design a productive area that can help you focus and do your best work, so you can have more time for your family and your hobbies.
Keeping a home office away from all the noise throughout the rest of the house can help as well. Even if you don't work from home, but need a place to balance a checkbook, make a grocery list, or have a quiet place to read, home offices can be a proverbial lifesaver. When you have a desk, lamp, and a closed door, they can even be indispensable.
#3: Quiet Room
There are times when you need to get away, even when you can't leave the house. In these types of situations, having a moment of peace and quiet is far from easy. Instead of escaping into the bathroom or trying to hide away in some other area, turning an extra room into a place where you can enjoy some quiet time can be much more satisfying and a lot more convenient.
Quiet rooms can have dim lighting, comfortable seats, and even white noise (if that's what you prefer). They can have calming music and will often be decorated with potted plants. They can close you off from the world and will allow you to regain your focus. They can also be great resources for people who need moments of peace during a hectic day. You can even add some soundproofing to create a quieter space that's ready for relaxation. Depending on your interests, you can even use it for meditation, yoga, reading, and even homework.
#4: Hobby or Craft Room
Another great way to use an extra room is to turn it into a craft room, art studio, or workshop for one of your hobbies. If you know you want to use it as a craft room, you can design it for that purpose. If you like to dance, you can turn it into a dance studio. But, if you're interests are more musical, you can turn it into a space that caters to that specific interest. You can even add the right soundproofing during the building process if you include it in your custom home plans.
#5: Home Library
If you have a growing collection of books and don't have a room in your custom home design for storing all of them, an extra room can be turned into a home library. You can add built-in shelves, so you can have a space to put all your books. They can also be used as storage or display spaces for other things.
If you're looking for one of the best custom home builders in Corpus Christi, be sure to reach out to Devonshire Custom Homes.