You spend a lot of time in the bathroom — whether it's for taking a shower, getting ready for work, or spending bath time with the kids. Because so much time is spent here, you want to make sure it's more than just another room in the house. If you add the right bathroom design elements, you can make it a place where you can unwind after a hard day. It could even be a room that inspires you with a creative jump-start in the morning. After all, the best ideas come in the shower.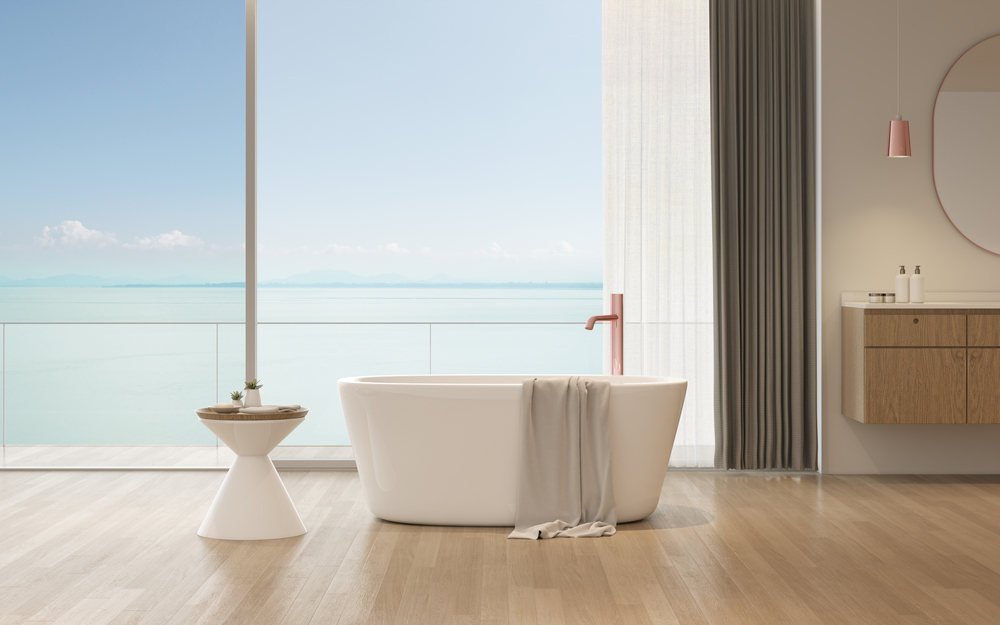 Here are some of the key elements that go into a good bathroom design.
#1: Functionality
A space can be beautiful, but functionality is just as important. That's why you should meet with a qualified designer to help you with your bathroom design ideas. You want to think about how it will be organized, as well as how it will be used throughout the day. You want a bathroom design that will work for your specific needs. By keeping functionality in mind, you'll be able to keep it organized.
#2: Storage Needs
Because it's typically a 5' x 9' space with a tub and shower combo, water closet, and small vanity, most bathrooms don't seem to have enough storage. That's why every square inch is important. If you want to add more organization to your bathroom design, you should consider some of the following storage solutions:
Vanity Grooming Rack — This is a necessary item if you use curling irons, straighteners, and blow dryers.
Vanity Drawer with Partitions and Dividers — The added dividers and partitions can be great for storing everyday bathroom items.
Toe Kick Drawer — This can be used for extra towels and sponges. It can even be used to store a small foldable step stool for the kids.
If you want some more bathroom design ideas for adding extra storage, be sure to speak to a qualified designer.
#3: Personal Style
There's no wrong way to approach it, but you do need to understand your vision before you come up with a bathroom design. Make sure you speak with a professional designer to help you put things into focus, and it would be a good idea to bring any reference photos that you can bring to your consultation. That way, the designer will be able to understand what you want for the space.
#4: Space
Almost every luxury bathroom feels spacious, even if it isn't. A good bathroom design feels orderly, light, tall, and roomy (even if it's in a confined space). People may not notice the actual room dimensions, but they will remember how it felt when they walked in. This is the one thing you need to remember as you go through your bathroom design ideas. You can use certain tricks to give people the illusion of space — that it feels larger than it actually is.
Architects will play with positive and negative spaces when they come up with a design. Whether it's a room, a house, a park, or an entire city block, they know that the spaces in between are sometimes more important than the structure itself. Space can be broken into one of these two categories:
Negative Space — This is the space between certain elements (such as the toilet, bathtub, or vanity). People don't want to stay too long in a negative space, because it's not very inviting (even if it serves a practical function).
Positive Space — You can purposely place certain elements to create a space that's both meaningful and practical. While people tend to move through negative spaces, they want to stay in positive spaces.
Be sure to speak to a design professional for more information.
#5: Lighting
Lighting can make the biggest difference in a bathroom design. In fact, it's the primary cause of a room feeling like it's under-decorated and underappreciated. We don't want to spend a lot of time in dark rooms. But we love rooms that are light, cheerful, and have a feeling of openness. Some people say that their bathrooms don't have an external wall to make use of natural light, but that's no longer an excuse. Solar tubes can bring the light of the sun to any room in the house. It acts like a skylight, except it can be used anywhere. But even if natural light is hard to come by, it doesn't mean your bathroom has to feel dark and depressing. Adding quality lighting fixtures in the right places can make a massive difference in your bathroom design.
If you're looking for one of the best home builders in Corpus Christi to help you come up with bathroom design ideas, be sure to get in touch with Devonshire Custom Homes.