While the last few years haven't been the best times for large gatherings, the season of entertaining is well upon us. That's why custom bars are being built in a lot of homes. It's the perfect solution for a small family kitchen, because it takes up much less space than a table and chairs. It can also double as an area for preparing and presenting food, but the best place to install one will depend on the shape and layout of your home.
Here are some great custom bar ideas that you can add to this part of your home.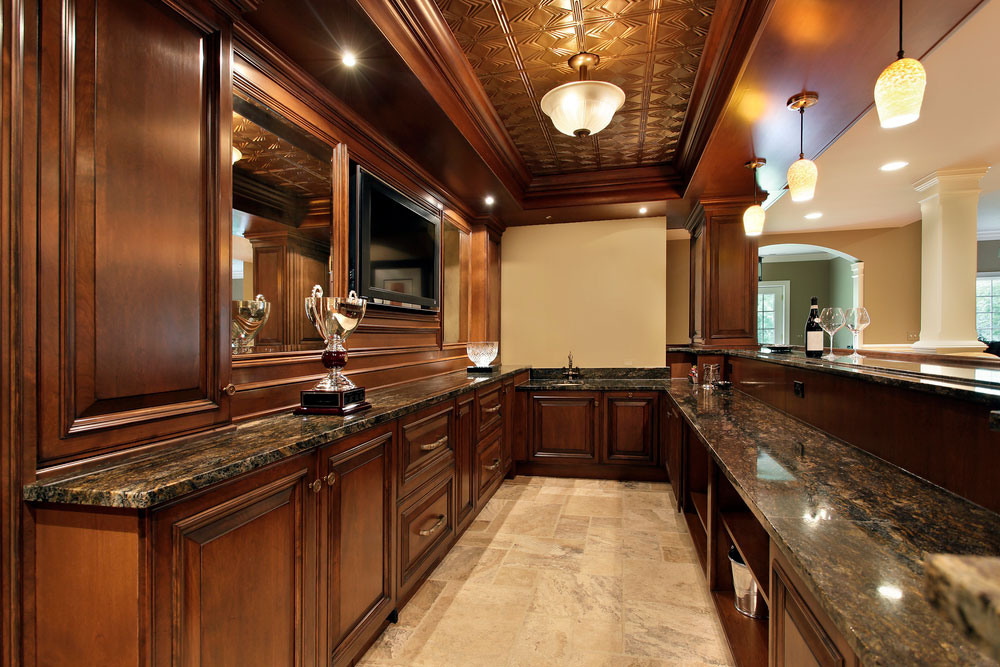 #1: Adding an Island
Having a dedicated area for serving drinks will be more complete with an island that resembles the look of a cocktail bar because it represents the epitome of luxury when it comes to entertaining. It's a great focal point around which guests can gather, especially if it has a curved shape. It's also a great area for you to show off your ability to make cocktails and serve drinks — all while keeping the back part of the bar free for doing prep work. It can even be a useful area for drink fridges and ice makers, which will be out of site but close enough for easy access.
#2: Getting Creative in a Small Space
Having a small bar with an eye-catching design will look much more exciting than fireplace alcoves and bookshelves. With some magazines, you can make a small space stand out even more. You can have a lot of fun decorating a home bar with a playful design.
#3: Getting Stylish Under the Stairs
Using the space under the stairs can make your bar area more stylish. It can also be more rewarding than filling it with coats and shoes. Your guests will appreciate it more, especially during party season. You can follow the rise of your staircase to gain as much height as possible. You should also think about adding a contrasting timber or color to separate it from the rest of the staircase. Adding a small amount of brass or any other reflective surface can make the space stand out even more, and it will turn that awkward space into one that can be more easily enjoyed.
#4: Connecting Rooms
You can make an open-plan kitchen even more sociable by adding a built-in bar between your cooking and living areas. If it's inside an island unit or peninsula, a well-appointed bar can draw guests away from the business end of your kitchen while making sure the conversation flows. Whether it's below the counter with open shelving and a wine fridge, or has cabinets above the counter to show off your collection, an island or peninsula is a great place to add a custom bar.
#5: Getting Mixers on Demand
If your home bar doesn't have easy access to the kitchen sink, you should think about adding a tap for boiling water. It's a lot faster than heating it in a kettle, and it's more energy efficient. It will also make it easier to serve hot beverages. You can even add a tap that can give you cold, sparkling water (which is great for making cocktails and long drinks). It will take some of the pressure off your fridge. While you don't need a large sink to support a boiling tap, having a small prep sink can be useful for rinsing glassware and getting rid of dregs.
#6: Adding Appliances
If you want to build a dedicated space for a home bar, you shouldn't skimp on any of the functional details. You may want to add a wine cabinet, so your favorite spirits are kept at the right temperature. You may also want to add a second one for storing juices and soft drinks, so you can free up space for your kitchen fridge. You should, however, check the volume levels to make sure a running dishwasher doesn't drown out any conversations.
#7: Adding a Home Bar in the Dining Room
Having a home bar in your dining room will not only give you a space to host after-dinner parties but will also add more useful places to store your less decorative cookware, as well as your more commonly used tableware and practical accessories. If you paint the joinery in the same color as the walls, you'll be able to create a sleeker and more minimalistic look that won't turn the eye away from the rest of the space.
If you're looking for one of the best custom home builders in Corpus Christi, be sure to reach out to Devonshire Custom Homes.