Your home is more than just a structure that has been built with flooring, four walls, and a roof. It's made out of a collection of complex machines, appliances, and systems — all of which need energy to work. As technology continues to advance and people become more aware of the need to conserve energy (both to cut their bills and to protect the environment) homeowners are better able to reduce their dependence on grid-supplied energy than they have in the past.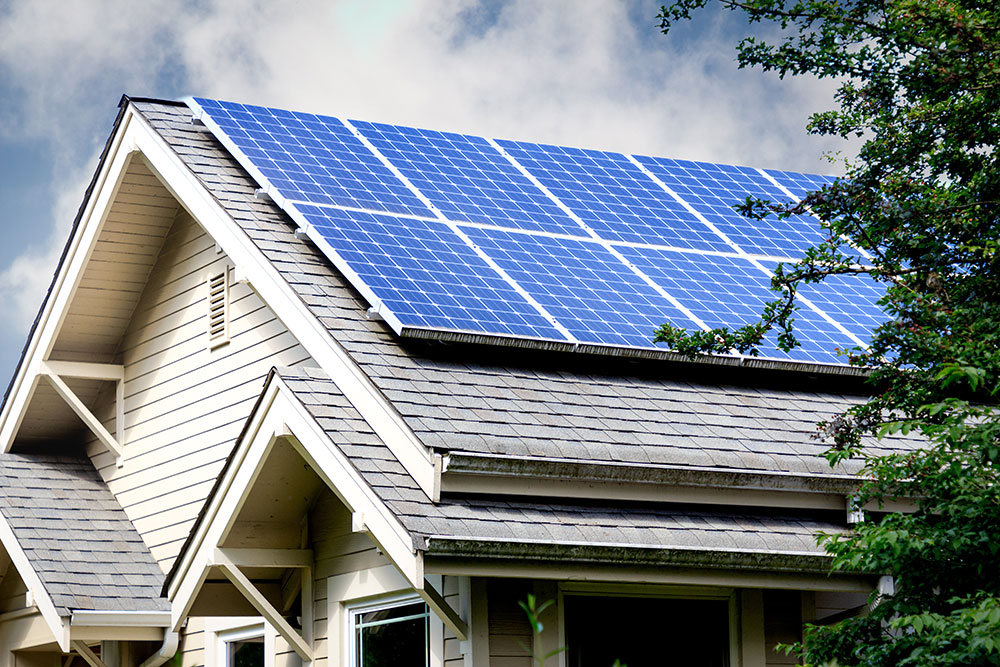 What is Considered to Be an Energy-Efficient Home?
An energy-efficient home will give you all the comfort and utility that homeowners wants while using the least amount of energy. A modern American home will use energy for the following areas:
Heating and Cooling — Most of the furnaces and air conditioning units in American homes are powered by either electricity or natural gas, which will be supplied by a local utility company.
Hot Water — This is probably the most underestimated appliance inside a home. It instantly provides heated water for your shower, faucet, dishwasher, and washing machine. In most cases, it will be powered by either electricity or natural gas.
Appliances — Not all appliances are created equal. There are different brands and models of refrigerators that will consume electricity in varying degrees of efficiency, and the same is true for all your other appliances.
Lighting — The kinds of bulbs and light sources you use in your home will affect your energy usage. The same is true for "smart" monitors that control when and how lights are being used.
Complex Systems — Every appliance can differ in how they use electricity, and the same is true for your home's entire electrical system. Your home's furnace, air conditioning unit, and ductwork can also be different in terms of efficiency.
There are many elements that go into making your home more energy efficient, but these are some of the primary examples.
How to Make Your Home More Energy Efficient
If you're a homeowner, today couldn't be a better time to cut your energy usage. You can start by making an assessment of your current and future energy needs. You also want to make sure all the elements of your home can operate in the most efficient manner possible.
Here are some things that you should consider adding to your custom home design:
Installing Solar Panels — A lot of people talk about "renewable energy," which involves the use of natural forces (such as the sun, wind, or moving water) to produce electricity. Solar panels turn the sun's rays into useful electricity, so they can be used to power some or all of your home's appliances, lighting, heating, and air conditioning.
Use Tankless Water Heaters — A standard water heater must be able to keep an entire tank of water (which is 40-50 gallons in most homes) heated at all times, but a tankless water heater instantly heats the water as it comes out from the main water source. It heats the water as it passes through a coil of pipes, which can be done through electricity or natural gas. So, it only uses energy when hot water is needed.
Purchase Energy Star Certified Appliances — Any home appliance, lighting fixture, hot water heater, and HVAC system can get Energy Star certified from the U.S. Environmental Protection Agency (EPA). They work as well as any non-certified product, but they use a lot less energy.
Install LED Lighting — LED bulbs have done a lot to make home lighting more energy efficient. They're 75% more efficient than standard incandescent bulbs. They can also be programmed to turn on and off at specific times. They can even dim or shut off when no motion has been detected for a certain period of time.
Use Spray Foam Installation — Installing quality insulation in your floors, walls, ceilings, and attic can make your home's heating and cooling system more efficient, so it won't cost as much to operate. Insulation blocks the transfer of heat, so it will keep it in during the winter and out during the summer.
Purchase Smart Home Devices — Smart technology can help you to limit your home's energy usage by making automatic adjustments at times when energy is or isn't needed. A smart thermostat can adjust your home's temperature during periods of peak activity or when no one is home. It can even adjust the temperature when it's time to sleep.
If you're looking for one of the best custom home builders in Corpus Christi, be sure to get in touch with Devonshire Custom Homes.