As you think about your new custom home, you most likely have a specific atmosphere that you have in mind (especially when it comes to lighting). People have made their share of mistakes when it comes to designing and building custom homes and lighting is no exception. One big and easily avoidable mistake is picking home lighting without making the necessary preparations. Homeowners will pick all kinds of lighting options that they think are attractive. But, once it's installed, it doesn't work in that room or with the home's overall decor.
Home lighting is about more than just brightening up a room. Much of your home's design and décor depends on lighting. It's also easy to overlook how different lighting options can complement (or even clash) with a specific space. Lighting can be affected by a number of elements (such as the room's size, shape, and color). It can also be affected by the height of the ceilings and even the furniture. You want to think about how you'll be using each room and whether adding recessed lighting above the living room sofa can give you the right atmosphere for game night.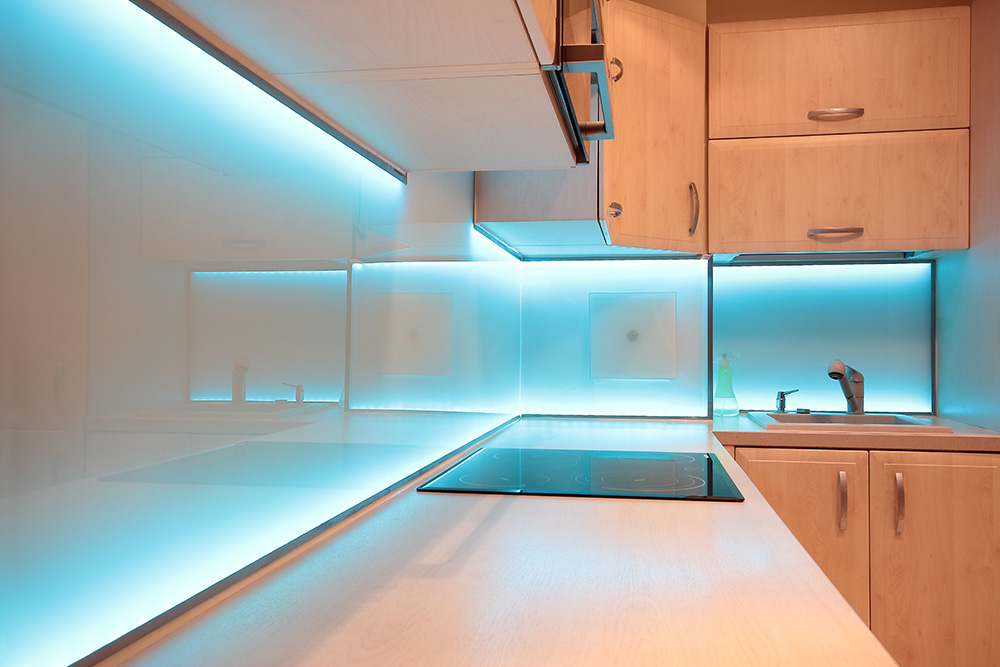 Home Lighting Options for a Modern Aesthetic
If you want to give your home a more modern look, stainless steel and bright white is a good starting point because it's a classic trend for home lighting. Brighter lights can also bring out the pristine visuals of a modern design. Some of the best home lighting options for achieving this type of look can include:
Recessed Lighting — One of the best ways to give your home a modern look is to have the lights built in. Whether they're installed inside walls or ceilings, recessed lighting can give your home that futuristic appeal.
Track Lighting — Often seen in galleries and museums, this type of lighting can give any room a modern look. It can also work well with stainless steel or black trim.
Be sure to speak to a professional for more information about modern home lighting options.
Home Lighting Options for a More Elegant Look
While there are options for making your home look more modern, there are some lighting fixtures that can give your home a more elegant feel. These types of home lighting are often found in ballrooms, castles, and mansions. But, you can install them in your home as well. Some of the lighting options for giving your home a more elegant look can include:
Chandeliers — Often found in grand halls and opera houses, large chandeliers can make everyone stand in awe as they enter the room. There are also smaller versions that are made from a variety of materials, but they can have the same awe-inspiring effect.
Sconces — This type of lighting will often remind people of classic times, especially if they're lined with real candles. Modern sconces use light bulbs and are much more efficient, but it doesn't mean they're any less elegant.
Be sure to speak to a professional for more home lighting choices on how you can achieve this kind of look.
Functional Home Lighting Options
While atmospheric lighting is an important part of any home, some areas may need more functional fixtures. Bathrooms, kitchens, and home offices can find this type of task lighting beneficial, because it will allow you to see what you're doing more clearly. Here are some home lighting options that can help you in these areas:
Floor Lamps — This type of home lighting can illuminate your home while also being stylish. If they're properly placed and are made of the right materials, they can serve their purpose without sacrificing the atmosphere.
Desk Lamps — These lamps are designed for workspace (whether you're balancing a checkbook, drafting blueprints, or fixing electronic equipment). You can find them in any home because of their practicality (whether they're goosenecked or rigid).
Overhead Lighting — This type of lighting isn't just for large retail stores. It can also be used in homes (except for the fluorescent bulbs). With smaller fixtures that use less wattage, overhead lighting can give you a great deal of illumination without wasting wall or floor space.
Because lighting can play such an important role in your home design, it's important to make the right choice. That's why you should seek the help of a professional. If you're planning to build a custom home and are looking for one of the best home builders in Corpus Christi, be sure to reach out to Devonshire Custom Homes.